B2B Brand Building: an interview with Spencer Clarke, Nationwide Building Society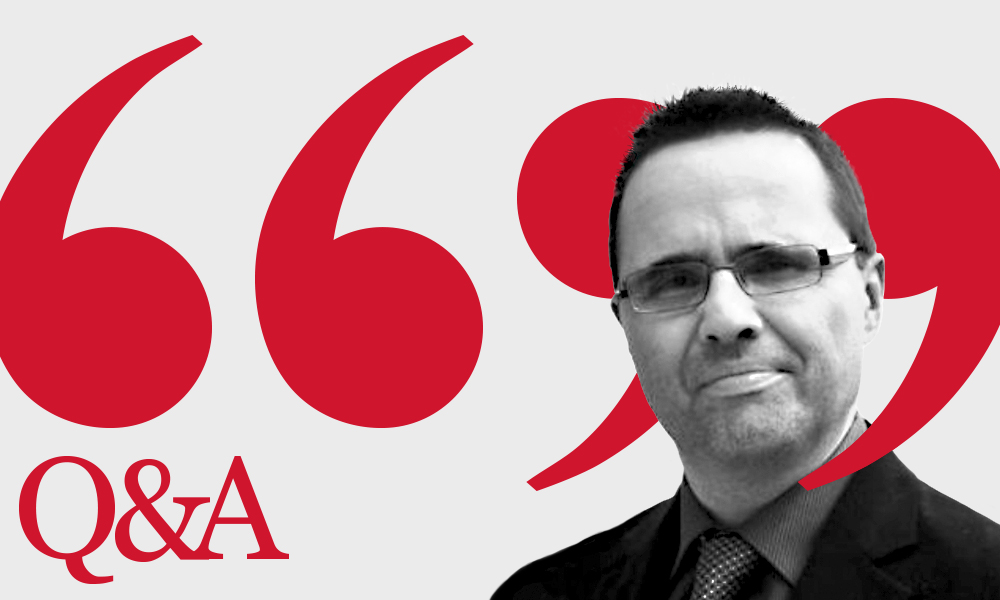 In the third in our series of interviews on brand building, and specifically its place in B2B marketing strategy, Zoë speaks to Spencer Clarke, Director of Marketing for The Mortgage Works, Nationwide Building Society.
What does brand building mean to you?
Brand building isn't about a logo and communications. Of course both play a part, but at its core, brand building is telling a story; a story about who you are and who you aspire to be. The aspiration part is important, it drives action. And it can't just be window dressing. It's got to come from the inside-out and permeate the organisation.
Financial services branding is about influencing customer perceptions, choices and organisational success in the long-term, rather than driving immediate sales.
How well do you think the concept of brand building is understood by B2B organisations?
It's a difficult one for me to answer because I've been in a B2C organisation, with a B2B element, for the last 13 years, and before that I was pretty much always B2C. However, in my experience, the concept of brand building is not well understood by organisations generally.
In the main, it will be understood by the brand and marketing team, if there is one – and in smaller B2B organisations there's less chance of that. But even talking from the perspective of our own company, I regularly need to sell-in the importance of brand building to my colleagues around the business.
It's particularly challenging to make the case for investing in brand with colleagues that have an ultra rational mindset, like those in finance. Because cause and effect is so incredibly difficult to prove when it comes to brand building, and particularly in the short-term, you're often met with "Why worry about it? Why not focus on selling stuff now?" They don't understand the role emotion and long-term brand building plays in converting those sales down the line.
What advantages can brand building activity bring to B2B marketing?
It's no different to B2C. If a business only focuses on short-term sales activation, as opposed to long-term brand building, it won't achieve its full potential. Focus on both the short and long term is needed – not just one or the other.
There's a study by Binet & Field called 'The Long And The Short Of It' that we live by at The Mortgage Works and Nationwide Building Society. It shows that if you do just brand building without activation marketing alongside it, then that's not going to be effective enough. If you do the reverse – which many organisations do, then you'll see short term spikes in sales when you spend money on marketing, but you won't have the power of brand underlining and supporting it.
Similar to B2C, brand building in a B2B market will give power to the short-term activation tactics, with the premise of the 'why' to underpin the rational 'what'.
We introduced the short and long strategy four years ago and our brand and sales have gone from strength to strength in that time. You can see the correlation between the strong sense of purpose and emotion that circles the brand, and then the effectiveness of activation on sales alongside it. However, it is still incredibly difficult to prove.
Do you think there is a place for purpose in B2B brand strategy?
I absolutely do and I think it goes very much hand in hand with the role that emotion plays in B2B marketing.
Without purpose, and without emotion, all you're left with are cold, hard, rational product and price. Unless genuinely innovative, product features rarely answer the 'why'; why you should invest in this brand beyond the fact that the product does what you're looking for and the price looks good. If you're faced with a series of products which are all much of a muchness, your purpose should provide that connection with the customer that lifts your brand above the pack.
Service is one element of the why and, in a B2B context, who you're doing business with should also make a difference. Ultimately we're all human beings and we make decisions based on how we feel. By uncovering your purpose and tapping into peoples' emotions, you will elevate your brand above product and service, and give yourself a better opportunity to cut through.
In B2B marketing, which do you think is more important, creativity or data?
The perceived wisdom is that data is all-important. If you're targeting the wrong people at the wrong time, then it's just not going to work. Whereas if you target the right people at the right time with sub-optimal creative, then it might work. And to a degree that's true.
But in my view, it's the two coming together that's most powerful. Having a creative story to tell at the right time, to the right audience, is what's important. In B2B this shouldn't be any different than in B2C. You're still talking to a human being. But creativity is sometimes underrated in the B2B world, to its detriment.
The power in a story being well told, whether that's through an advert, an email or a sales presentation, that isn't just piling rational fact upon rational fact and brings in emotion and purpose, will ultimately be more effective. Creativity is about telling that story without succumbing to the desire, and wider company pressure, to just flog a product.
Can you think of any B2B organisations that really excel at brand building?
I don't see many good examples of brand building within the B2B space and sadly it's often the opposite, where irritating and inappropriate digital targeting by suppliers invades my personal space causing them significant brand damage in the process (there's a major technology provider who's been stalking me through social media and even Video on Demand TV advertising – they're not doing themselves any favours there!).
However, one that immediately springs to mind is Caterpillar (CAT). It's the emotive crossover that they have made. They are a provider of heavy machinery and equipment, yet they have become an everyday brand. I have no idea what the thought is behind their brand extensions, but by crossing over into clothing and other more consumer-oriented categories – but with that link to their core purpose as a company – they're recognising that their B2B audience are still human beings and there's an opportunity to build a connection with them beyond diggers and trucks. And it works.
How has your brand helped your organisation respond to COVID19?
The pledges that we made to our landlords and our members around home support is a reflection of who we are. Not just doing what the government asked us to do, but trying to protect all our customers and make it easier for them to weather this storm.
This really goes back to our brand purpose and who we are. We're here to provide homes for families regardless of whether that's occupied houses or through rental. Going back to that purpose was wholeheartedly the right thing for us to do; we didn't need the government to push us to do the right thing. When you have a strong sense of purpose, it gives you a very clear right and wrong direction for those decisions.
In addition to a self-serve payment holiday solution and other landlord support, we just stayed out there with our products and services. Similar to the financial crisis in 2008, we continued to maintain our presence where other lenders withdrew from the buy-to-let market. It wasn't easy, but we know that just being there for our customers at such difficult times is part of who we are. And our customers remember that.
---
About Spencer
Spencer is a strategic marketing leader, who is passionate about driving positive change for the benefit of both business and customers.
Having started his career in Arts Marketing, he's spent the last 25 years of his career leading marketing teams at a range of financial service brands – from Lloyds Banking Group, Portman Building Society and Zurich Financial Services, through to his last 13 years at Nationwide Building Society and The Mortgage Works.
Spencer is a proud supporter of Mission Include, mentoring individuals cross-industry and cross-discipline to help drive a more diverse senior leadership population in the UK.