B2B Brand Building: an interview with Alastair Pegg, A-Plan Insurance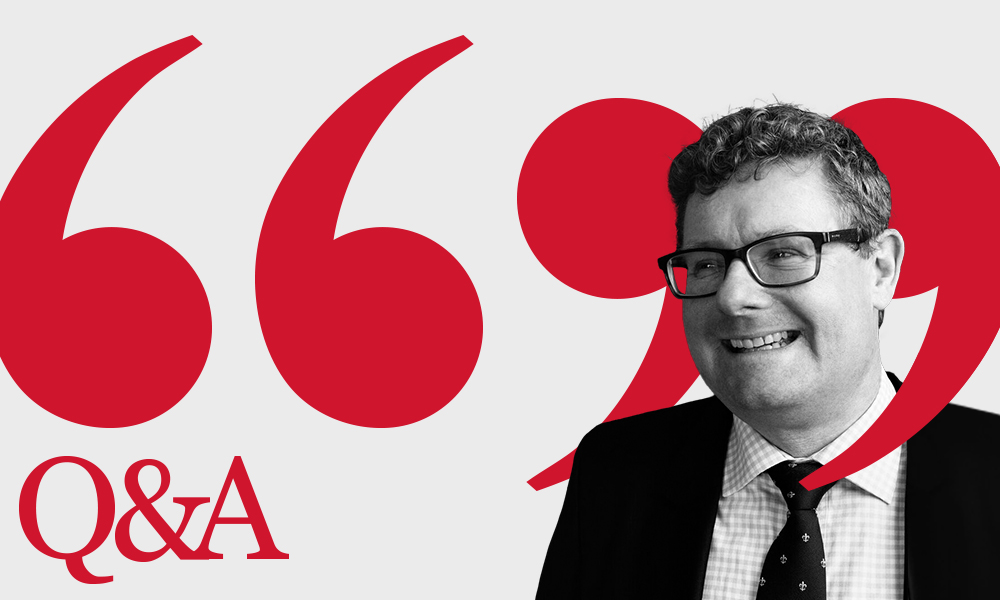 Brand. A word seemingly innocuous. Just one syllable, yet consistently overused, misused, and misunderstood. No more so than in the world of B2B. Here, brand is at best, a foggy concept.
At mark-making* our mission is to change this. Because understood and committed to with conviction, brand building is the key to sustainable commercial advantage. And better brands make the world a better place.
Kicking-off a series of interviews on brand building, and specifically its place in B2B marketing strategy, Zoe speaks to Alastair Pegg, Group CMO at A-Plan Insurance, about his take on the power of brand.
What does brand building mean to you?
Brand is about reputation. It's about understanding, experience and trust. Building a financial services brand takes many different forms and is determined by all areas of an organisation. Any touchpoint can be seen as part of the brand. So, at its most basic, brand building is about ensuring each and every touchpoint with your customers, colleagues, investors (etc) reflects what you want to achieve with your brand.
How well do you think the concept of brand building is understood by B2B organisations?
To talk about all B2B organisations, would be a huge generalisation – some really get brand and some don't. I firmly believe that in a B2B environment the brand is the business, and brand building is about building the business.
Brand building activity has a long-term effect that opens more doors, puts your business on different lists, and ultimately generates more trust. It's about being recognised for what you stand for. If the brand experience is always transactional then your brand will be recognised for being transactional too.
What advantages can brand building activity bring to B2B marketing?
If the brand is well known, it will already have a set of qualities associated with it. Leveraging these qualities can give a brand more cut through with potential customers, generating more introductions and more business.
If the brand is new or lesser known, having a good brand positioning and understanding of who you are and what you stand for is essential. Then, getting the brand known is as important as generating leads. Without a clear story, a brand has no value – just a name and a logo.
Do you think there is a place for purpose in B2B brand strategy?
Yes. Your purpose is what makes you different. I don't know why it wouldn't be part of B2B thinking. Every business needs an understanding of the community it operates in. Having a sense of purpose and acting positively on it gives a better, fuller picture of what an organisation is like – generating greater trust.
Do you think there is a place for emotion in B2B marketing?
Whatever it is you're selling, you're solving a problem for someone. Whether it's stationery, IT or insurance, everything solves a problem. The problem might not be huge, but by solving a problem you're already dealing in emotions. Emotion is still very much a part of business and it has the power to unlock business potential where rational approaches alone can't. Emotion has the ability to cut through. Something interesting, creative and joined-up is much more compelling and memorable.
In B2B marketing, which do you think is more important, creativity or data?
You can't do one without the other. If creative work isn't inspiring, you can reach the right people, at the right time, via the right channel, but the message won't land or cut through the noise. If you have fantastic creative without insight, then again the effort won't be rewarded and the opportunity to make an impact will be lost.
You have two sides of the same coin and you've got to put the effort into both.
Saying that, there is so much data to work with now, it becomes an activity in itself. Marketing has definitely moved towards a focus on the data at the potential expense of creativity. You need both to unlock the problem.
Can you think of any B2B organisations that really excel at brand building?
B2B brands that have a consumer proposition, like the bigger banks and building societies, have an advantage as they can ladder up to a broader narrative. Otherwise it's the larger tech brands like Microsoft and Adobe that stand out, largely because their campaigns are above the line. Another one is Salesforce. They've given themselves a personality and set of attributes that are accessible and simple to equate with solving business problems.
How has brand helped your organisation respond to COVID19?
The A-Plan Insurance brand stands for great quality service and getting people the right insurance for their needs. When people are dealing with so much uncertainty, having someone available to talk to is important. I think the brand can go further and do more, but at the moment being available for the client, maintaining their trust, loyalty and respect, is the most important thing. Especially when people are finding it difficult to get through to other brands – we've been available to help.
---
About Alastair
Alastair Pegg is a strategic thinker and transformational leader with a record of driving marketing change for a wide range of service brands including A Plan Group, The Co-operative Bank, Virgin Money, Nationwide, Vodafone and RAC.
Alastair has a particular expertise and passion for digital marketing and developing customer propositions, and a proven track record of delivering customer growth, brand improvement and bottom line business results.
With excellent people skills and a focus on motivating talent, Alastair is also a Mentor with the Marketing Academy. He has won a variety of awards and was recognised as the 'Marketer of the Year' by the Financial Services Forum in 2018/9.