Goldman Sachs Research predicts that the AR/VR industry will be worth $80 billion by 2025.
– Goldman Sachs
We all love a Snapchat filter right? Perhaps you caught Pikachu in Pokemon GO?
These are most likely everyone's first experiences with mainstream augmented reality (AR), which can 'augment' or overlap virtual objects in the physical space around you making them feel like part of the environment.
(For context, virtual reality (VR) is a similar technology, but different, because it immerses users in a fully artificial digital environment. VR companies like Oculus (which Facebook acquired for $2 billion in March 2014), usually require expensive hardware, compatible software, native applications and or content to get the most from the experience.)
Handheld devices are becoming more powerful, and with browser vendors supporting 3D models in conjunction with the device camera, augmented reality (AR) is now more accessible than ever, without users having to pay for expensive kit or software.
Instead of As well as Pikachu[1], how would you like to see the actual size of a Great White Shark in your Living room instead? Or show you how those new pair of Nikes will look? With AR features in Google search rolling out later this month, you can.
AR in Google Search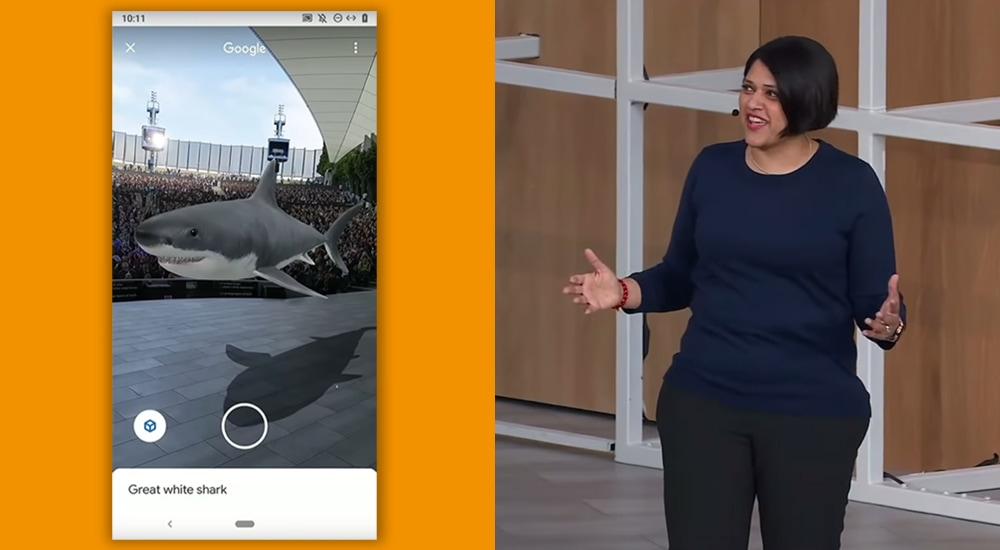 Google are working with NASA, New Balance, Samsung and more to showcase their own content in Google Search so you'll be able to interact with 3D models and augment them into your real-world space right in the Knowledge Panel to view them in 3D and AR.
Often, seeing is understanding. New features in Google Search and Google Lens use the camera, computer vision and AR to overlay visual information onto your physical surroundings → https://t.co/rrvrEE60Hl #io19 pic.twitter.com/yCEO1gIky4

— Google (@Google) 7 May 2019
I enjoy writing about Structured data. My hunch is that the 3DModel Schema will be used for this contribution to the Google Knowledge panel, (the area on the right in the desktop search results that contains various useful information about what you searched for).
Augmented reality in eCommerce
As is usually the case with new technologies, you have the early adopters. IKEA always strives to make good design accessible to everybody, which is evident in their AR app 'IKEA Place' that allows you to preview furniture around your home before you make a purchase decision.
More recently, based upon research that three out of five people didn't know their correct shoe size, Nike made Nike Fit. It solved this problem by using augmented reality to scan customers' feet. Nike turned to AR again when they wanted to turn Air Jordan into 'A/R Jordan' as a way to bring Michael Jordan's prowess on the court to life—in a way that would connect with basketball's teenage fans.
Considering 40%+ of people say they prefer to complete their entire shopping journey on mobile — from research to purchase [3] — it's a no brainer (where possible) to make a 3D model of your product and put it where people can find it.
Augmented reality experiential marketing (AREM)
AR is fun, interactive and engaging, but what about its use in experiential marketing[2] with an aim to create a more personal, emotional attachment to the product, service or brand?
Companies who take up AR have seen an obvious increase in their brand awareness due to the crowd that they created, many are not familiar with the brand itself; it was AR that captured their attention that soon lead to word of mouth.
– academia.edu
#SelfiewithShakespeare
Our 2016 Social Buzz Awards finalist campaign 'Selfie with Shakespeare' featured a geo-targeted Snapchat filter which placed a ruff ("arguably the most recognisable item of clothing from the early modern period" and a "key fashion accessory for both wealthy men and women") around the neck of visitors. It was a success and generated over 9000 geo filter views.
Creating AR content
It's becoming easier less difficult to create this kind of content…exclusive for those platforms…of course.
This includes Facebook's Spark AR that allows you to create filters for Instagram and Snapchat Lens Studio that again, will allow you to create effects for their platform.
While in Safari for iOS 12 we can capitalise on ARKit2 and support for the USDZ format to showcase 3D models directly in the browser instead of relying on native applications, Shopify is taking things a step further by adding this capability in the eCommerce platform with the 3D warehouse.
Tools of the trade
For creatives who know the complex ins and outs of 3D modelling, this is a huge opportunity to capitalise on the demand for animating and texturing 3D models.
In partnership with Apple and Pixar, we also announced that we're adding usdz support to Adobe Creative Cloud apps and services. Combined with the power of Creative Cloud, ARKit, and the usdz file format, Project Aero will push the boundaries of what's possible.
– Adobe Project Aero
Lucky for some, Adobe has partnered with Apple to take the complexity out of modelling and exporting the USDZ filetype, which is in early access stage at the moment.
Augmented reality …at mark-making*
Now we know the what, the why and how. I thought why not, and made our very own AsteRisk.
Show us where you can place the asterisk…keep it clean and tag with #mARkmaking3D the best one will receive a 10ft 3D printed Asterisk (jokes).
Click the Asterisk below to try the Augmented reality Asterisk, then tap the AR tab along the top
(Safari iOS 12)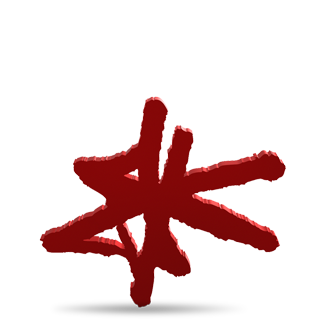 Additional links
Functional/Implementation
Brand
$$$
Footnotes
[1] For the record Pikachu is 16″(Inches) tall.
[2] Also known as Engagement marketing.