The idea of brand publishing isn't an entirely new concept, but it's taking its time to catch on. This is partly due to not understanding what brand publishing is, and partly because brands simply don't know how to go about it.
In this article, I am going to give an introduction to the idea of brand publishing: what it means, and what sort of things you need to be considering.
What is brand publishing?
I'm sure I'm setting myself up for criticism by attempting to define the term brand publishing, so think of this as more my own take on what it means.
Brand publishing is a marketing strategy where brands treat themselves not as advertisers, but as content publishers.
The term is often used interchangeably with content marketing and brand, but I think brand publishing goes beyond that.
There is a particular mindset unique to considering yourself as a publisher which I think is important, but I'll get onto that in a moment.
When it comes to branding publishing, this doesn't mean you have a blog and blogging strategy (although, that is certainly part of it).
A blog is simply one type of content, along with:
infographics,
webinars,
presentations,
videos,
podcasts,
interactive visualizations,
photography,
downloadable PDF's,
social media content,
newsletters,
in-person events,
print publications,
online tools or
software…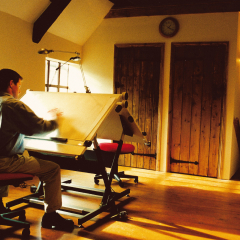 Right, I'm going to stop to catch my breath. But I think you've gotten the idea. Brand publishing is about more than blogging.
Thinking like a publisher means acting like a publisher
Thinking like a publisher means acting like a publisher, although there are publishing tricks you should avoid. Learn from how your favourite publishers operate and envisage yourself as one of them, and you're getting closer to the right perception.
You need to be thinking about having an editor, and editorial guidelines. What's the correct writing style for your brand? Who is in charge of overseeing your content?
How are you communicating internally? Don't forget the impact our employees have on our brand identity.
How many ways are you leveraging a particular story? If all you've done is turn it into a blog post, think about how many other ways you could have used it. Perhaps a guest post on a related subject, or a Slideshare presentation that summarised the key takeaways of an article. Always be thinking about how to maximize the opportunities you are working with.
One very simple idea is to accompany your blog posts with a sketch or cartoon; this blog we published recently, "Showing a homepage on the first meeting is too much, too soon", used a fun cartoon as a header image that doubles up as an extra piece of content.
These are examples of the sorts of questions you should be asking yourself if you're embarking on the branded publishing journey. But, as always, you're not the only one doing the same thing, so consider how you can be differentiating yourself. Much of it is about finding a niche for yourself; what could you do to establish yourself as best in the world in?
Focus on quality, not on selling
One of the most important parts of being a successful brand publisher is to remember not to push your products or services on your target audience. That's just advertising and a very weak way of going about it too.
The content you will be publishing needs to be quality; the sort of content that people are going to enjoy and share with others. Sure, it will be branded. But that doesn't mean incorporating a sales pitch every opportunity you have.
Creating Content
By the way, did we mention we help brands with content strategy and become expert brand publishers themselves?
Okay, that was an example of what not to do. There's nothing wrong with call-to-actions to get your desired response from your audience, but be gentle with it.