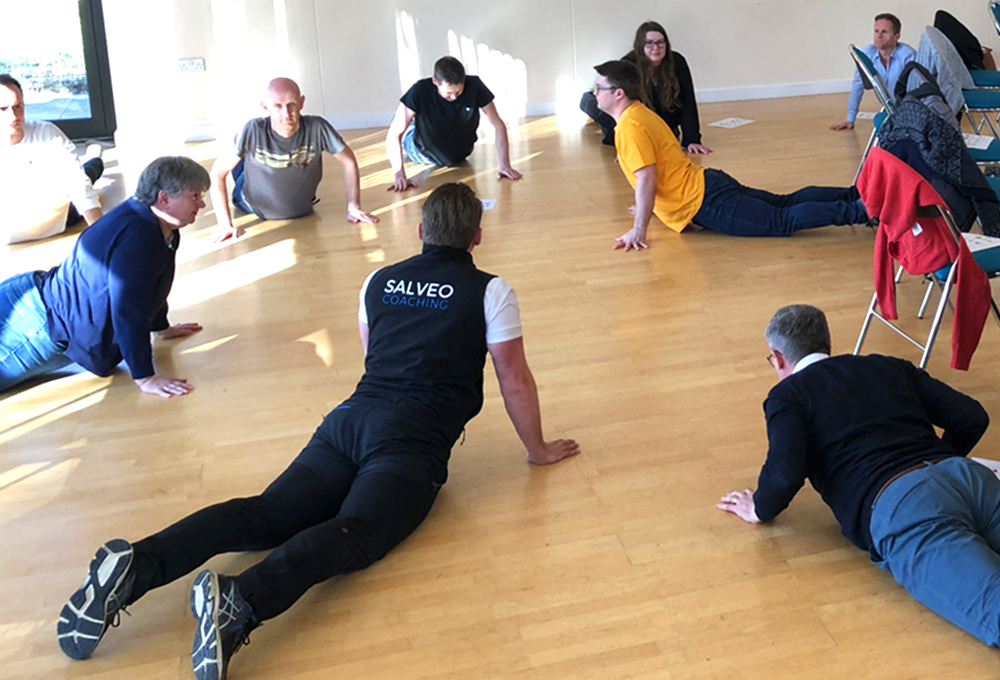 "The aim of this programme is to support every mark-maker as a whole person, not just an employee, in pursuit of a life well-lived and a job well done."
About 18 months ago, I had the pleasure of meeting an incredible man: Nick Parker (TheCancerJourneyMan), whose story I found both heart-wrenching and uplifting.
His vision was to create a community event that would inspire and empower people to start their own journey to wellbeing, through shared experiences and diverse knowledge. As such, ChippyWellFest was born.
ChippyWellFest's great success inspired the start of MyHealthTribe: a programme seeking to take wellbeing best practice and the results of research and apply it in workplaces in and around North Oxfordshire.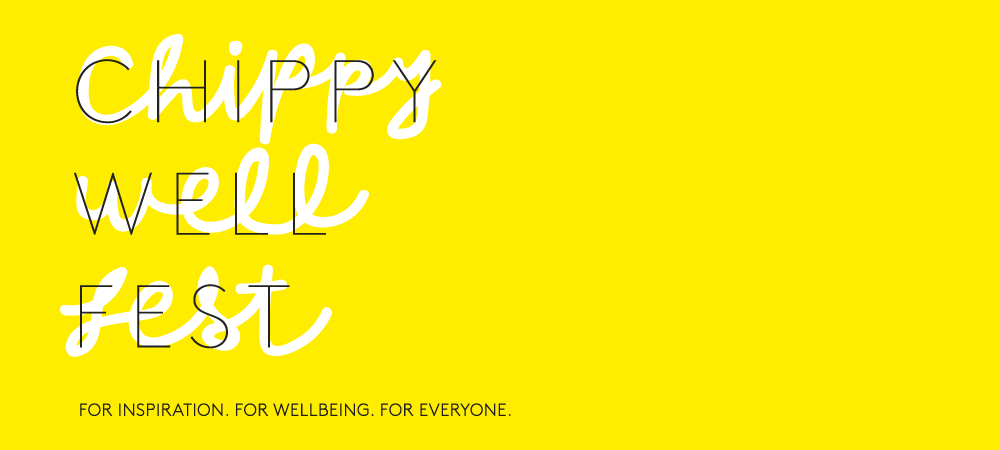 MyHealthTribe at mark-making*
MHT is a voluntary monthly programme and – thanks to the generosity of Ali and Steve – one that has been offered to all mark-makers for the past quarter. Following a taster session at the end of February, the programme kicked off in March.
Personally, I've found the programme to be a great benefit so far. For one thing, I can honestly say that I've never drunk so much water: thanks, in part, to the funky mm* branded Chilly's bottles gifted to us (told you the bosses are generous). For another, I've learnt a lot about breathing exercises (who knew how much was involved in just breathing?!).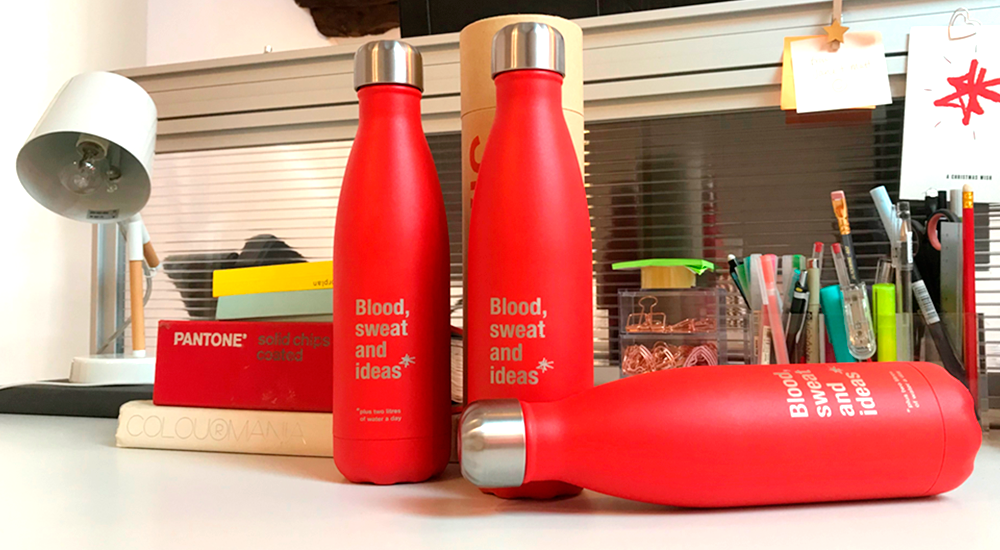 The coaches are approachable and you can't dispute their passion for their area. Their breadth of knowledge is incredible and I love the fact that Juliet can give you as much advice on what to do with a tray of veg as she can on making meringues! (Balanced diet and all that.)
I'm looking forward to seeing what the coming months have in store for us. I'm hoping that there will be a few more mini HIT and yoga sessions. With so much of our studio life sedentary, it's fab to be able to don some trainers and move about or "zen out"!
Whatever the coaches have in store for us, I'm sure that it will impact positively on life at mark-making*. Already, Humpday Tea has certainly got more colourful and healthy. And Steve's "birthday cake" was vegan brownies. I have to say they were bloody gorgeous!
Wherever we end up in 12 months' time, it's amazing to work for a company who demonstratively "support every mark-maker as a whole person, not just an employee".
Lucky (slightly) little(r) me.
We've written previously about MyHealthTribe, but here's a quick recap…

MyHealthTribe
The programme focuses on 3 areas of wellbeing: movement, nutrition, and mindfulness, while also acknowledging that the subject of wellbeing is complex, broad, and unique to each individual.
The Coach Team is made up of local health and wellbeing professionals who are highly experienced in their fields.
Focusing on movement is David Shadlock, who is a personal trainer and life coach.
For nutrition is Juliet Norman, who is a nutritional therapist.
On mindfulness is Nikki Jackson, who is a yoga therapist and teacher, occupational therapist and mindfulness coach (and a woman who possesses the most wonderfully soothing voice that I have ever heard!).
All three areas are covered in each session with voluntary home practice (it's not homework!) set by each coach at the end of the workshop.
We have access to a Google Forum where we can share any learnings (Emily recently shared a wonderful recipe for a rainbow coloured salad) and ask the coaches or our fellow mark-makers any questions.
We also have a small steering group made up of volunteers whose role is to receive and give feedback and implement any agreed changes.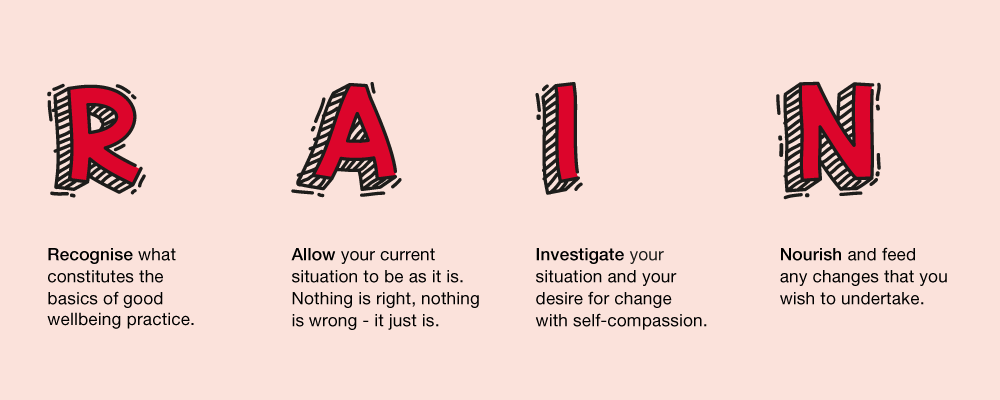 The structure and thinking behind the 12-month programme are based on the mnemonic RAIN.
Recognise what constitutes the basics of wellbeing practice
Allow your current situation to be as it is. Nothing is right, nothing is wrong – it just is.
Investigate your situation and your desire for change with self-compassion.
Nourish and feed any changes that you wish to undertake.
This structure is to be followed throughout all 12 sessions.
Hopefully, leaving us all with the knowledge and determination to implement positive changes – be they large or small…