Are you in constant pursuit of creativity? What if there were ways to become smarter in your work and make the creative process a bit easier? I asked the creative folks here at mark-making* what their top tips were for boosting creativity and the following 13 tips to boost your creativity are what they came up with….
The nature of creativity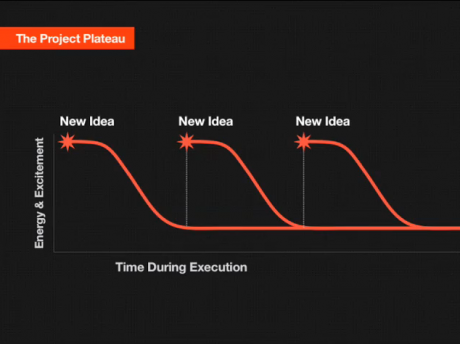 As American entrepreneur and co-founder of Behance, Scott Belsky, points out, we have this great gift of generating ideas.
But whether we are working alone or we are creating innovative ideas with a team, we can easily fall into a slump of a lack of effectiveness.
We can spend so long brainstorming certain ideas, fuelling our work and our brains with time for creativity, only to come to the conclusion that our idea wasn't good enough. So we abandon it yet again…
Scott Belsky: How to Avoid the Idea Generation Trap from 99U on Vimeo.
"The project plateau is littered with the carcases of dead ideas that have never happened. What do we do? We just generate a new idea. We do it again and again and again. What we continue to do is we escape this project plateau with a new idea, and instantaneously we return to this high of excitement, this willingness to execute. And this is why there are more half-written novels in the world than there are novels."
Scott Belsky
1. Change your environment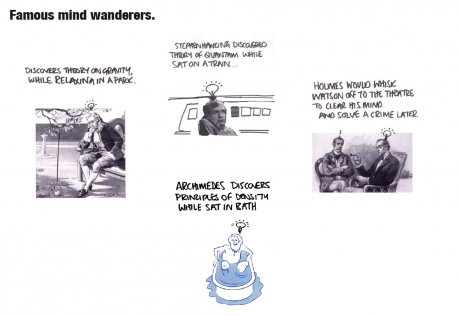 Image designed by our art director Russ
Getting yourself into the mood is key. Russ, our art director, suggests that when you struggle to find creativity, the best way is to remove yourself from your normal environment. Getting out of the office really helps to clear the mind and approach creative projects feeling refreshed, as new environments can stimulate ideas.
Sometimes, a five-minute walk to the park, or a visit to a museum or art gallery, can help you to start looking at things differently.
We don't have to look far to find proof that this method works. Issac Newton, Archimedes, Sherlock Holmes, and Stephen Hawkin are some of the best examples of people who had sparks of genius in unusual places.
The park, on a train, the theatre, or even in a bath; ideas can be born anywhere, and particularly when you least expect them.
2. Collective creativity
"I personally like group discussion where you have other people to sound your ideas off. I like the collaborative approach as often one person might have the basis of a really good idea, but through joint effort you can build on that idea to create something more than the individual alone might have come up with."
Lisa, Production Manager
Boosting creativity can emerge from group activity and can lead to many original solutions.
As individuals, we may struggle to find the inspiration to move our projects forward, but when we collaborate with different thinkers we give ideas the chance to be re-born. Different kinds of thinkers, especially with different backgrounds, may fuel our concepts with an approach not discovered by ourselves. What you may find is that even casual meetings can become a source of idea generation.
3. Lead a creative life
For Nic, our senior designer, it is all about being visually aware and knowing how to re-bag the things you are being exposed to every day.
It comes down to constant resourcing, collecting valuable articles and links, and remembering things you have seen which can help to get you into a creative mood.
It is hard to switch between creating and searching for something, but if you have your own storage of gathered inspiration, this in time can become your library of ideas.
And when your mind is taken over by a block, a few seconds of using Instagram may become another solution. For Nic, Instagram is not just a secret addiction, but also an inspiration for designs. Other social networks like Pinterest, Behance, and Twitter, are flooded with good content, allowing you to become exposed to other creatives, whose contributions there might become part of your daily inspiration.
4. Stimulate your thoughts with exercise
"Go for a run – this is a tip for clearing the mind and helps to solve problems without thinking too hard about them…"
Considering that Ali recently biked some 300 kilometers in one day, this post wouldn't feel complete without some sort of suggestion related to exercise.
It's not breaking news that exercise can reduce stress and increase creativity, but somehow we don't pay enough attention to exercise as a creativity booster. Researchers at Princeton University recently found that exercise such as running can boost creativity and concentration by increasing brain activity, as exercise 'creates vibrant new brain cells — and then shuts them down when they shouldn't be in action.'
You might not have thought of running as a creative activity, but exercise can help bring concepts and thinking to life.
5. Turn your project upside down
Sometimes it may be hard to find the right angle or get away from over analysing the details. To help yourself think about a problem, you might want to look at it more abstractly.
For example, our co-director Steve found that many times when he was getting stuck designing a page and he couldn't work it out, the best solution to approach this dilemma was to turn the front cover upside down. Sometimes, a different perspective may come as a rescue point and can resonate in new ideas.
6. Look for inspiration outside of the area you're working on
"Something I find always helps is when I've completed my research/mood boards for a project is finding inspiration from different sources outside of the design sector. I find visiting exhibitions at art galleries are a great source of inspiration. It will often trigger ideas for projects that seem to be totally unrelated. Coming back with a fresh outlook which really helps in the process."
Dean, Designer
To spur some fresh ideas, start by looking at things differently and pay attention to what's around you. Don't concentrate on only one sector or industry, because you can learn something new from somewhere you least expected it.
As another of our designers, David, hints:
"Stand up and walk away!! Come back when you're ready. Ideas don't happen by sitting at a computer screen."
8. Oblique Strategies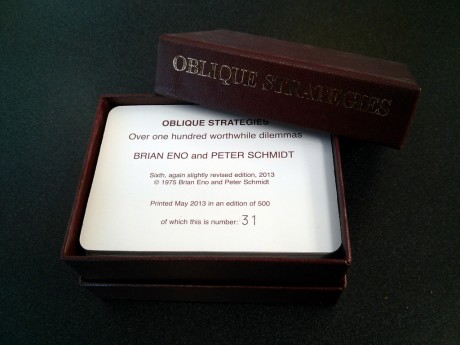 Matt, our web developer, has been a fan of Brian Eno and his Oblique Strategies for a long time. In case you haven't heard of them, it is a deck of 7 by 9 centimetres printed cards in a black container box. Each card offers an aphorism which may help you look at the order in which you do things. These aphorisms for creativity aim to help creatives jump into the thinking process and break their blocks with a new way of thinking.
9. Master the art of humour at work
As for me, I'm pretty lucky, as on a daily basis I'm surrounded by creative minds who are fountains of different ideas. If you have your eyes and ears wide open, you can learn quite a lot from their work, books, or even daily chats.
Another secret of making ideas flow is, believe it or not, having a good laugh.
Somehow humour makes ideas flow more easily.
These sorts of positive emotions can influence our brain activity, as according to researcher Barbara Fredrickson, when you laugh your body starts mirroring one another's body language, and the hormonal & neuronal activity, prompting a mutual investment in each other's well-being. This is why we should laugh more when we're working.
Here are some other tips, which may help you increase creativity
10. Make your space a "habitat for creativity".
Add a few elements to your own space to make it more personal. Sometimes, even polishing your working space may make you think better.
11. Sketch every idea.
When something is in your mind, get it down with a pencil and paper. This will help you record the momentum of the thought, and prevent it from escaping you.
12. Holidays are useful.
Not only do holidays conjure creative thoughts with their different climates, sceneries, and foods, but getting away from work is the rest your mind needs to work at full capacity.
13. Avoid negativity.
Even when it's not going well, remember that something you think is a bad idea can flip into a good one.
Keep your creative mind sharp and don't forget that reading is another way of gaining access to new ways of thinking.
By Kasia Piekut